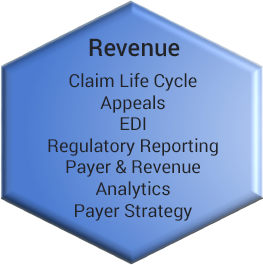 A&R Consultants offer the following consulting services for your Revenue needs
Claim Life Cycle
Develop internal or third-party vendor processes that support clean claim submission including payer required prior authorization.
Appeals
Appeals strategy and process development supporting positive coverage decisions and potential revenue opportunities.
EDI (Electronic Data Interchange)
Establish efficient, effective processes supporting exchange of information between ordering physicians, your laboratory and payers.
Regulatory Reporting
Internal preparation and compliance with external requirements (E.g., PAMA)
Payer & Revenue Analytics
Development and analysis of key metrics and reporting for fact-based payer and revenue solutions and revenue project management.
Payer Strategy
Long-term revenue preservation and efficient claim adjudication requires direct operational engagement with payers.